Most of the trekkers love taking these routes because its very natural and they get a chance to explore the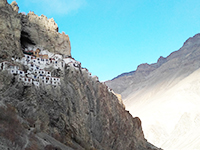 unique tradition, rich culture and heritage values of the valley. They also get a good opportunity to mingle with the smiling, good natured and peace loving people of Zanskar. In the end, they have an unforgettable memory of the visit.

At Mindruk trek & Meditation, we handle all sorts of Treks, cultural tours, Monastic sightseeings, organized Meditation sessions, Jeep safari and Expedition Acts.